Product Description
Unleash your youthful beauty with Dancing Garden Girls – captivating figurines that embody fairy tale charm and exude irresistible energy.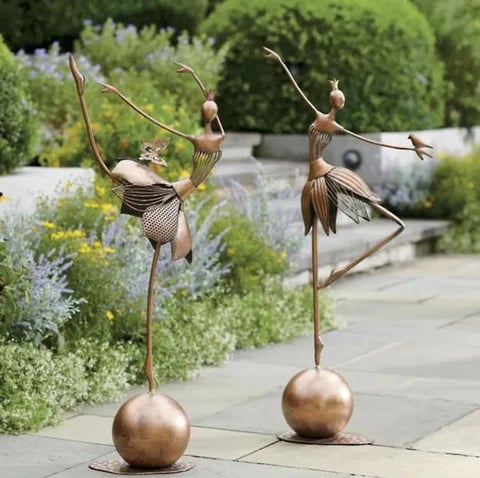 WHY YOU'LL LOVE IT
Whimsical dancing girl garden sculpture
Delicate details, gleaming copper finish
Unique for flowerbeds, foliage borders
Just 3.5 cm tall.
Weather & rust resistant
Placing these garden figurines in flower beds, on lawns, or in courtyards creates a captivating landscape that beautifully complements flowers and green plants. They gracefully sway in the gentle breeze, adding a delightful and romantic atmosphere to your garden.
Not limited to outdoor spaces, these captivating garden figurines are also perfect for decorating your living room. Whether displayed on bookshelves, by the fireplace, or on coffee tables, they infuse your living space with elegance and artistic flair.
Own Dancing Garden Girls now and let them dance in your garden or living room!
Important Notes
The finish may experience a naturally weathered patina over time, but these changes will not affect the integrity
Clean with a soft, dry cloth
In adverse weather or when conditions are unfavorable, please avoid using or storing these products. Instead, keep them in a dry and sheltered area